Medicentrum s.r.o., Zvolen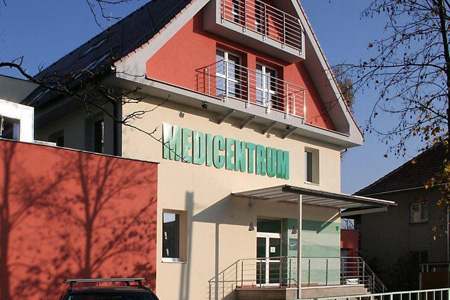 Medicentrum s.r.o. in Zvolen has been providing quality service in healthcare since 1997. This health service is provided for general public in modern, well - equipped building, situated in a quiet part of the centre of Zvolen.
Our health centre also contains one-day surgery equipped with two high-standard operating rooms. Postoperative care is provided to patients in rooms equipped with their own bathroom (shower, toilet), TV and internet connection. The device is also adapted for immobile, physically handicapped patients.
Till 1.10.2011 there were only plastic surgery procedures performed. Since then, the activity of centre extended to the provision of one-day surgery in the surgery and urology. Surgeries are performed under general anesthesia or local anesthesia such as hernia surgery, varicose vein surgery, laparoscopic gallbladder surgery, etc. The urologic procedures contain phimosis, hydrocele or varicocele surgery. Medicentrum s.r.o made a contract to perform this action with insurance companies - Všeobecná zdravotná poisťovňa and Union, which means that all the treatments are covered by them.
One of the biggest advantages of our centre is that you can find everything under one roof - from aesthetic dermatology, laser medicine, cosmetic, corrective surgery and general surgery to urology. Clients especially appreciate a personal approach to patients, discretion, comfort, no waiting time. For the maximum satisfaction of their patients, doctors perform surgery based on specific customer requirements.